WANT SUMMER MATHEMATICS LEARNING? CHECK OUT OUR RESOURCES FOR STUDENTS K-12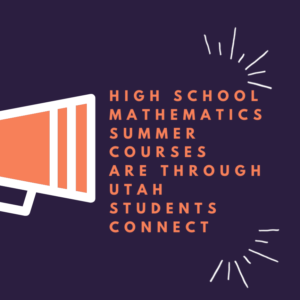 Secondary I, II, and III: Students are able to continue their coursework during the summer online via Utah Students Connect. Students who wish to register with Utah Students Connect must contact their counselor at their school in order to be able to register.  The Utah Students Connect requires a fee of $46.50 per quarter credit. Here are the next steps to register for classes.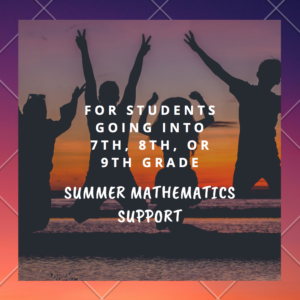 7th Grade/7th Grade Honors Support
8th Grade/8th Grade Honors Support
Secondary I/Secondary I Honors Support

Latest News: June 1-5

Online schooling will continue as usual for the rest of the year.
Our summer courses are canceled. 
Breakfast and lunch are still available at elementary schools. IT IS FREE for children 0-18 years of age.
Testing is SUSPENDED this year. More information here.
AP testing will be done at home this year.  Go here for details.

JOIN US!

We are doing Virtual Collaborations by mathematics taught. Find the schedule below.
MORE VIRTUAL COLLABORATIONS MEETINGS COMING SOON....
Guidelines for Preparing for At-Home Learning
_____________________________RESOURCES____________________